The Iowa Tests of Basic Skills (ITBS)
Average Class at Frederick Adventist Academy Scores Nearly TWO Years Above Grade Level: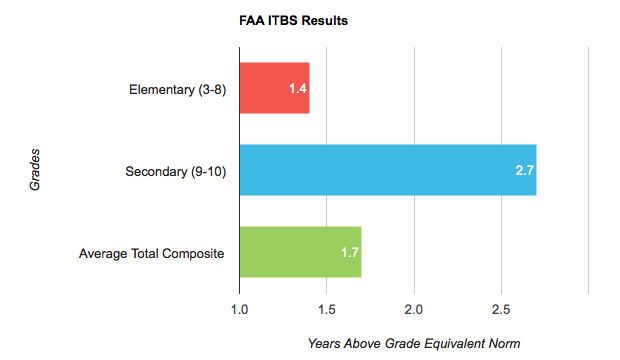 Did you know?

Unlike the tests that most public schools give which are state-normed and include only public school students, the Iowa assessments, which the North American Division of Adventist schools give, are nationally normed to all students, public and private. NAD schools, including FAA, give the tests to all students, grades 3-10. ITBS testing is given to students at FAA annually in September, right after school starts.
Results for Frederick Adventist Academy
The average total composite for all grades at FAA was 1.7 years above their grade equivalent norm – that is one year and seven months (in a 10-month school year) above each grade's norm. The elementary grades averaged 1.4 above and the secondary grades averaged more than 2.7 above each grade's norm in the nation – that averages to our students testing nearly two years above their grade equivalent in the nation!
In the past the faculty and parents noted that our weakest overall score on the ITBS test was in the math computation section. For instance, last year FAA students scored higher than national averages at .2 years above their grade equivalent on the math computation section of the ITBS test – our lowest average score.  In grades 1-4 the teachers implemented instructional adjustments, mainly by providing math drills, to help boost learning. This year the ITBS assessment has returned much higher scores in the math computation subtest. Elementary students (grades 3-8) were 1.3 above and secondary students (grades 9-10) scored 1.2 above national norms – scores that show our instructional adjustments are leading to continuous improvement and that our students are excelling by comparison to national norms in math computation.
Math Computation Subtest Scores